1st Character Design Contest Entries - VOTE NOW
Alright here they are. You'll notice that the format and materials are less than uniform. My honest answer to this observation is that nothing like this has ever been done before, it was a learning experience for me and I've taken notes. Expect future tournaments to be more organized, more descriptive in their rules and regulations and more universal in their entries. To keep things even I want to allow edits to be made in the comments section. Those that have left out things like points values and pictures feel free to post them in the comments until the polls close.
Speaking of the polls I'll be keeping them open for a couple of weeks - then the winner will be settled.
Please feel free to criticize the competition in any way you see fit. This is the first of many such competitions and I want each to be better than the last.
Judging the entries, some points to consider:
Writing style and imagination. What has the contestant done with the paragraph description allotted to them? Some players ignored the "one paragraph only" rule and sent me a whole page of fluff. In such cases I've selected one paragraph that's characteristic of the contestant's entry.
Special Rules and Wargear: Does the contestant match the rules to his fluff? Are the rules he's written clearly expressed and free of obvious loopholes? How well do they imitate GW's style or if they've set their own trend how well do they do so?
Balance and points values: How well costed is the character? Is it much less or much more powerful than existing GW entries (try to compare with similar GW entries)? Would you play against the character in question?
Overall: This might include such things as presentation and layout. Most of these entries have been manipulated by myself to make them more uniform but others have been designed top to bottom by their original authors and I think these efforts such be part of the competition.
I want to thank everyone who participated. Remember that the more people vote, the higher the value of the prize for the winner. Getting the word out about the competition helps your chances and it helps the site as well so that future competitions might offer still more lucrative prizes.
Jump Master Tuiro is a veteran of many campaigns, He has fought alongside Master Belial during the fierce battle of Piscina IV. It was he who led the charge to recover what was thought to be Master Belial's Body after he was struck down by Warlord Ghazghkull Mag Uruk Thraka. The fighting was bloody and fierce, even more so when it was discovered that Master Belial yet lived! After securing Belial, Tuiro took command of the forces remaining on Piscina IV, following orders from Belial, Tuiro was able to match the xenos ferocity at every turn, this compounded with his formidable combat prowess helped to keep hope alive for the outnumbered Unforgiven. When the remainder of the Chapter returned, Tuiro was promoted into the 1
st
company, the Deathwing, for his gallantry and ability to turn the battle wherever he appeared. He served for many honor filled years and slew many of the chapter's foes. Upon promotion to Chapter Master of the 8
th
Company, therefore giving him the title Jump Master, Tuiro was heard to say, "All the better to bring the chapter's wrath upon the enemy." As Jump Master, Tuiro has repeatedly shown that he is a Warrior to be feared, using Angel's Bane and a jump pack to leap straight into the enemy in the manner of a true Angel of Death.
Fearless, Independent Character, Rites of Battle
(Dark Angel Codex, Page 36)
Bombs Away:
Master Tuiro has become quite adept at heaving melta bombs at his target before he closes into assault with it. In the Shooting Phase, instead of using his bolt pistol, Tuiro may instead choose to take a shot at heaving a meltabomb at his quarry using this profile:
- Angel's Bane:
Angel's Bane is a Master Crafted Powerfist and a Chapter Relic of the Dark Angels. Tuiro is so skilled in its use that it does not slow him down as much as it might for other marines. Blows stuck by this weapon are at initiative 3.
- Enigmatic Guard:
Tuiro Carries his personally branded combat shield into combat, the chapter's Techmarines have modified it to put out a stronger force field, so that it can be used at all times. The Enigmatic Guard gives Tuiro a 5+ Invulnerable save that can be taken at any time.
-
If Tuiro is in the army, One Assault Squad may be taken at the base cost of 100 points PLUS upgrades as noted in the Dark Angels Codex
Rogue Trader "Blastgut" Bartleby by Zach Stein
"Ye gots ta watch out fer Blastgut! Cross 'im an' ya be digestin' a ball 'o plasma!"
-Overheard in the Sumps End Pub
"Blastgut" Bartleby began his career as a bounty hunter in Hive Hades on Armageddon. By the time of the 3rd war he had built quite an empire of hired guns and gangs that owed him favors. He orchestrated the defense of his "turf" throughout the war. At one point he rescued Inquisitor Heinzer from certain doom and played a key role in helping the Inquisitor achieve his goals during the war. As a reward he was granted his own ship after the Hive was eventually destroyed. Since the war he has built quite a rep as a Rogue Trader, trading from hive world to hive world picking up new crew from the top of the local gangs and doing odd favors for the Inquisition to keep his records clean.
1 Bartleby (Senior Officer)

4 Bodyguard
Flak armour

Pricilla and Lisa Marie (Bartleby)

Red Jacket (Bartleby)

Frag Grenades

Refractor field (Bartleby)

Plasma pistol/CCW (Bodyguard)
Hot Shot

Feel No Pain (Bodyguard only)

Get the Loot

Motley Crew

Look out - Arghh (Bodyguard)
Hot Shot:
Bartleby is a natural gunslinger and a fantastic shot.
He may make one shot per Attack characteristic. In Close Combat he still uses his pistols but receives no bonus for additional weapons or charging. His attacks are resolved as S7 power weapons that Get Hot.
Pricilla and Lisa Marie- These antique plasma pistols are Bartleby's pride and joy. In Shooting or HTH he may subtract 1 from his A (up to 3) to reroll misses.
Dice that may be rerolled must be declared before rolling.
Red Jacket:
This trademark Item of Bartleby's count as a Regimental Standard
Get the Loot:
In addition to the standard orders that may be given by a Senior Officer, Bartleby has a special order "Get the Loot" that may be attempted once per game.
It may be issued to a scoring unit within 6" that currently controls an objective. If successful, the unit may pick up the loot and take it back to the ship. They may move the objective with them as they must move and run whenever possible to exit the from their deployment zone. If they make it off the board the controlling player counts as capturing one uncontested objective.
Motley Crew:
Bartleby often recruits his crew from Hive gangers. Any model in the army armed with a Lasgun, Laspistol, or Shotgun may swap one for another at no point cost.
Chapter Master Deacon Decius by Stephen Berenyi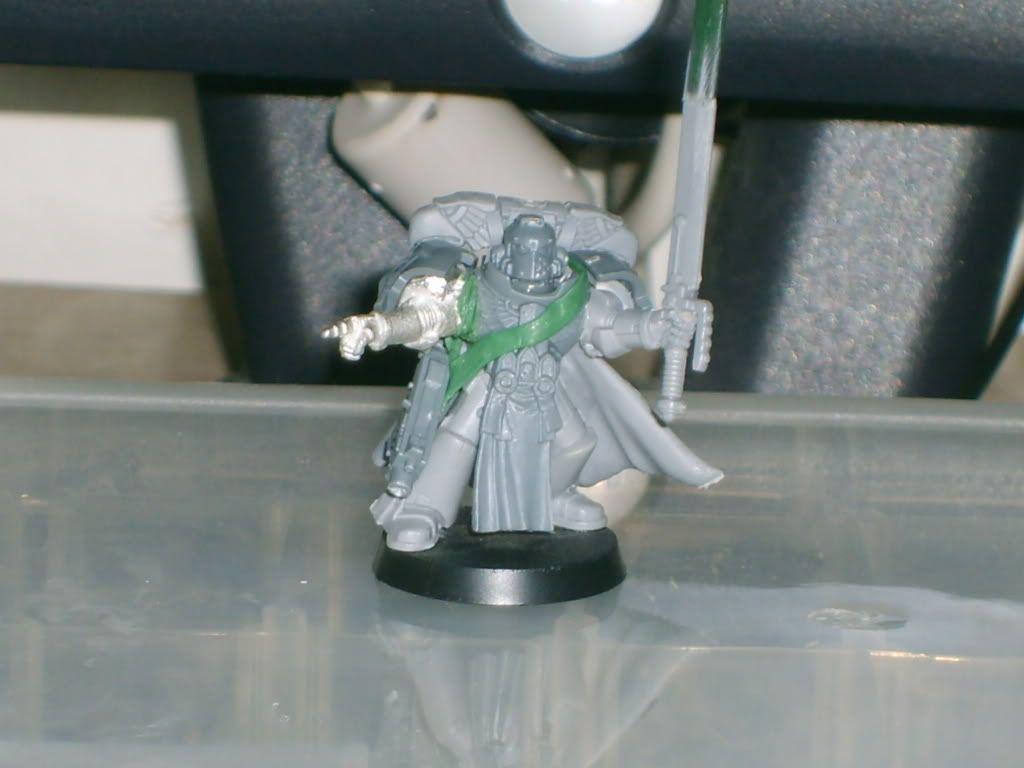 Chapter Master Decius has led the Night Stalkers to war for just over a century. His Iron Fisted rule of his chapter has etched out a completely safe area of space within the Aurora Subsector. His thane worlds know naught of Raiders. Though orks and Dark Eldar have been known to intrude upon his space, their assaults are quickly snuffed out with a ruthlessness that can only be matched by their swiftness. Deacon's rise to power was slow and hard fought, as it should be among the Astartes. Spending over two centuries proving his mettle throughout Scout, Tactical, Assault, Devistator and Terminator Squads, he eventually became captain of the third company. After the Prior chapter master was slain, he was elected in a split vote among the captains 7-3. He voting for First Company Captain, and First Company captain voting for him.
Sword of Vengence

Artificer Armor

Bolt Gun

Refractor Field
Sword of Vengence:
This ancient relic blade has been the mark of position among the Night Stalkers for ages. It has tasted the blood of many foes and has an ingrained thirst for the blood of the chapter's enemies. It confers the prefered enemy special rule upon it's bearer.
Refractor Field:
This field grants Deacon a 3+ Invulnerable save.
Chapter Tactics:
All Space marines in an army including Deacon Decius Lose the Combat Tactics Special Rule.
Deacon has served for several centuries among the Night Stalkers. as such, his reputation has grown among his chapter and those serving him.
any squad that fails a morale save may immediately re-take the test and take the new result instead. If they fail this test as well they operate at -1 Ld for the remainder of the battle.
Deploration of Weak Armor:
Land Speeders, Rhinos and Razorbacks may not be taken by the Night Stalkers, however they gain the ability to take a Land Raider, Land Raider Crusader or a Land Raider Redeemer as a dedicated transport for the following squads: Assualt Squad, Tactical Squad, and Devistator Squad.
Plasma Weapons may not be taken by the Night Stalkers.
Tactical squads may take a Melta Gun or Flamer instead of a Missile Launcher.
Orbital Bombardment:
See Codex Space Marines
Ufllbcan Bryss, Acting Chapter Master of the Angels of Secrecy by Master Bryss
Bryss loaded a fresh round into his combi-melta and immediately spent it again repelling the vast daemon hordes. They refused to stop for anything, and it was clear that they would soon break through... But there, in the distance, their lord! Should he die, Bryss could end this! He ran forward, spinning Skyhammer and bringing it crashing into the closest adversaries.... But then, the hammer was blocked.... The Keeper of Secrets, possibly the most fitting foe he could face, stood before him. Bryss discarded his hammer and pulled out his antique firearm.... He aimed the combi-melta, aiming straight for where the Daemon's vile heart should have been.
"Semper in secretum, blasphemous creature!" He fired.
Blaze of Faith

Skyhammer

Melta-bombs

Artificer Armour

Frag and Krak Grenades

Iron Halo
Options
:
Replace Skyhammer with the
Spear of Dying Moments
for +20 points.
Blaze of Faith
:
This is Bryss' lovingly crafted personal heraldry and weapon, which recently received an overhaul to convert it to D'Angelus pattern. It is a Master Crafted Combi-Bolter (D'Angelus pattern)-Meltagun.
Skyhammer
:
This weapon is seen as a thunder hammer by an untrained eye, but it is actually light enough to use with other weapons. It is a master-crafted power weapon that increases Bryss' Strength to 5. Enemies wounded by Skyhammer are reduced to I1 the next time they attack.
Spear of Dying Moments
:
Sky's signature weapon, gifted to Bryss for his loyalty. It is a master crafted Relic Blade that causes Instant Death when it inflicts a wound. Bryss cannot use this if Sky is in the same army.
And They Shall Know No Fear

Chapter Tactics (Angels of Secrecy)

Independent Character

Orbital Bombardment

Eternal Warrior

Never Say Die
Never Say Die
:
Should Bryss be killed, put him on his side at the place he fell. During your next Movement Phase, roll a D6. On a roll of 4+ Bryss stands up with D3 Wounds and acts as normal that turn. If he is within 1" of an enemy model, place him in close combat with the enemy, with no bonus for charging. This ability can only be used once.
Chapter Tactics (Angels of Secrecy):
All units in an army containing Bryss lose the Combat Tactics rule but any model that has a bolter exchanges it for a D'Angelus Bolter with the following profile:
Count Basarab "The Handsome" Radu by Menzies Tank
The 5th regiment of Karpathia are an elite division with an emphasis on grav-drop operations combined with psychological warfare techniques to further their effectiveness. Broadcasting their arrival onto dropzones to unnerve and disorientate their opponents, this was the battle protocol of the notorious Karpathian 'Death Sirens'. In fact, the training regime of the Death Sirens is considered so gruelling it is said that their combat skills would rival that of Schola Progenium graduates. Even their equipment, financed by the patrician fortunes of Hive Vlachia Deus, is thought to equal that of Storm Troopers. However, it is neither their modus operandi nor is it their fearsome skills at war that ring their infamy throughout the fringe worlds of the Imperium, but rather the ambitious crusade of one man, which culminated in the direct control of the Death Sirens and ultimately the betrayal towards their Imperial duty during the Invasion of Karpathia. Achieving this through a campaign of bribery, deception, sabotage, self-enhancement, and the assassination of his superiors, that man is Count Basarab 'The Handsome' Radu.
Karpathian 'Death Sirens':
Count Radu and his Storm Trooper Squad must always deploy via Deep Strike and must always choose the Airborne Assault mission from the Special Operations rule described on page 46 of the current Imperial Guard Codex.
Ruthless Tyrant:
Count Radu can issue up to two orders each turn. He has a command radius of 12" and can use the Get Back in the Fight! order as described on page 30 of the Imperial Guard Codex, as well as the Move! Move! Move! order described on page 36 of the current Imperial Guard Codex. In addition, Count Radu can use the following unique orders:
Kill Them, Or Feel My Wrath!

The Count threatens his soldiers to launch a ferocious attack to wipe the enemy out, or he will see to it personally that if the enemy does not kill them, he will. If the order is successful, the ordered unit gains the Furious Charge and Rage universal special rule.

Attack, You Dogs!

Radu orders his men to the enemy as quickly as possible. Rather than risk the Count's ire, they scramble to their fee to engage the nearest opponent. If the order is succesful, the ordered unit gains the Fleet and Rage universal special rules.
Obey Me or Else!
During the issuing of orders to a chose unit, instead of taking a leadership test, Count Radu can opt to sacrifice one of the men in his unit. Immediately remove a single model from Radu's unit, which will cause an automatic Inspired Tactics result, as per page 29 of the current Imperial Guard codex.
Note that Radu can only utilise this ability two times each turn, and can no longer force a result of Inspired Tactics if he runs out of men in his unit to be made examples of!
Despicable Leadership:
Count Radu has cultivated such a degree of hatred of his leadership amongst his men that they consider him fragbait of the highest order, and will grab at the first opportunity should he exhibit any signs of weakness to 'relieve him of his command'. Until then, they will commit to Radu's orders dutifully, more out of begrudging sense of fear rather than loyalty, or respect.
If Count Radu's unit fails a Morale test, the unit mutinies against the Count and proceed to execute him. Immediately remove Count Radu as a casualty, regardless of number of Wounds remaining. The unit in question must then re-roll the failed Morale check - if this test also failes then the squad falls back as normal.
Screech Chutes:
Count Radu and the Karpathian 'Death Sirens' are equipped with both bespoke ear muffles and customised grav-chutes, called 'screech chutes' which have modified air-intake stabilisers that emit an ear-splitting shriek when the Death Sirens deep strike onto the battlefield. These screech chutes have been known to burst eardrums and wreak havoc and confusion to both friends and foe alike!
When Count Radu and his unit deploy, roll a dice and for each non-vehicle unit on the table (except Radu's unit) that does not have the Fearless special rule. On the roll of a 2+ that unit must take a Pinning test.
Blade of the Handsome:
Radu carries upon his person an ornate dagger known as a Karpathian Krisknife, which has been laced with the deadliset toxins. With this concealed blade and augmented reflexes, he has conditioned himself to strike a deadly blow to his opponents, a blow he has developed over a lifetime as a trademark finishing act designed to appeal to his vanity.
During the Assault phase, Radu has an additional normal close-combat attack which is Poisoned (3+).
Captain Stephenson by Admiral Drax
An expert on scouting and harassment tactics from an accidentally prolonged secondment to the 202nd Catachan Regt, Captain Stephenson made a name for himself by leading ever more aggressive sorties until - in an action of sublime heroism - an hour-long fight against five Necron Destroyers and their Lord in the Lost Forests of Anthramar left his legs crushed and useless. Now hard-wired into his mechanical steed and back with the Cadian 24th, Stephenson continues to serve the Emperor as surely - and as gracefully - as his 'clearance blade' carves through the armour of his enemies.
C'Thodos the Artificer by Mike "Overthrow" Overbo
The Blind Artisans that design and build the Soulgrinders often let the Ash Wastes battles self-select candidates, although some of them have adopted additional means of selection. One such being is C'Thodos the Artificer, one of the sentient overlords of the infernal bellows of the Forge of Souls. This particular smith prefers a more hands-on approach than the typical process of the other blind artisans: he prefers to take the survivors of ash plains battles and subject them to more testing, more refinement, and more experience. He prefers to give his recruits a taste of the mortal world. His affinity for the process has led to several pacts and bonds with Chaos Warlords. These warlords benefit from the addition of vastly superior possessions, in exchange for newer chaos-tinted materials from the mortal world. Though some doubt C'Thodos' involved approach, none can deny that his forge fire burns brighter than that of
other artisans.

Eternal warrior

Fearless

Daemonkin

Fleet

Rage

Unholy Bond
Counts as meltabombs

Frag

Krak

Power weapon
Special Rules:

-
may not be the sole HQ

-
required to be attached to possessed retinue

-
counts as 1 HQ FOC slot.

-
may hold the icon for his retinue

-
special daemonkin rule: may reroll daemonkin once but always rerolls fleet


-
UNHOLY BOND
:
upon removal of a model, the remaining fragments of the vessel may form a spawn. At the end of an assault phase, perform a Toughness test for the model in question. If successful and a model is available, the player may opt to replace that model with a spawn. This spawn may be attached to the possessed unit at the player's choice.


-
all possessed units subject to "rage", "fleet", and "move through cover" USRs

-
all possessed units roll for daemonkin prior to deployment, fleet rerolled

-
all possessed units must purchase 1 champion, champ limit upped to 2/squad

-
all possessed units count as daemons

-
all possessed champs have the UNHOLY BOND rule

-
Unholy Might:
all possessed champs may purchase S+1 upgrade (+10 pts)

-
Veteran Champion:
all possessed champs may purchase rending upgrade (+10 pts).
-if the model already has rending, it rends on 5 and 6

-
entire squad counts as having frag and krak grenades for 3 pts/model

-
a possessed champ may count as having meltabombs for 5 pts
Mercenary Lord Darion Haven by Colin Hill
Death and Taxes

Eye of Learion

Extensive Bionics

Energy Shield (4+ Invulnerable Sv)

Iron Skin (3+ Sv)

Adapted Multi-tracker

Adapted Target Lock

Power fist
Money Talks

Hates Space Marines

Independent Character

Relentless

Stubborn

Traitor by name only

Favoured of the Tau
Darion was a loyal servant of the Emperor, placed in an impossible position by fate. Though he hates the Emperor and by extension the Emperors Space Marines, he does not follow the ruinous powers and is not considered a traitor by the forces of the Imperium in his home sector. As such his mercenary forces are often hired by the Imperial Guard forces in the sector. However the inquisition have branded Darion a heretic and as such an army including Darion may NOT include any allies from Codex Witch hunters, Codex Space Marines or Codex Demon hunters.
Darion may be fielded in an Imperial Guard force as a mercenary addition. Darion has offered much service to the Tau Empire and sees them as his adopted home. As such mercenary components of Tau forces commonly accompany him in battle. His extensive bionics even allow him to communicate with Kroot and Vespid in a similar manner to Tau commanders.
An Imperial Guard force including Darion may include Vespid Stingwings as a native Fast Attack Choice and may include Kroot as a native Troop choice. These two choices are available as written in codex tau with all listed upgrades available.
Darion may be fielded in a Tau Empire force as a Mercenary addition. Though the Imperial Guard are forbidden to consort with xenos, it is commonly accepted that the Tau are one of the lesser evils in the galaxy at large and Darion rarely has difficulty finding mercenaries willing to fight for him alongside a Tau force when the need calls. A Tau Empire force including Darion may include 0-1 Infantry Platoon as listed in Codex Imperial Guard and 0-1 Heavy Support choice as listed in Codex Imperial Guard. These choices may take any upgrades available to them within Codex Imperial Guard.
The eye of Learion is one of the three main cybernetic upgrades given to Darion by the Tau Empire in reward for his services during the Damocles Crusade.
The eye is an adapted networked markerlight that may be used as following:
Using the eye counts as firing a weapon. The eye may target any unit or vehicle in line of sight and will automatically hit. The effects of the eye may only be used by Darion and will grant him either:
+1 to BS while firing against the target
-2 to the cover save of the target against any shooting from Darion
This allows Darion to fire up to two weapons per turn.
This allows Darion to fire at any target he can see with either weapon. This does not need to be the same target as any unit Darion has joined and allows Darion to fire two weapons at different targets.
Darion has had so many cybernetic improvements made to his body that he is arguably more machine than man. The extensive self-repair systems he makes use of to prolong his life are also more than capable of dealing with combat damage if given time. Any time Darion loses his last wound, lie him down on the table where he died. At the start of his controlling players next turn he will be returned to life with one wound on a d6 roll of 4+. If this roll is failed, remove Darion as a casualty. If Darion is lying down at the end of the game, he counts as a casualty.
Death and Taxes:
Inspired by broadside battle-suits and Hammerhead battle tanks in action Darion worked on a guidance design capable of delivering similar results using Imperial technology and, once completed, christened the weapons system 'Death and Taxes'.
Death and Taxes incorporates two missile launchers, integrated into Darions armour on twin shoulder mounts. The launchers are of standard imperial design though their firing, loading and guidance systems are a complex hybrid of Tau and Imperial technology. Death and Taxes has a range of 48".
When choosing to fire Death and Taxes Darion may use any of the following options:
Normal fire:
Death and taxes can be fired as two standard missile launchers. If fired in this manner it will count as firing two weapons
A hail of frag missiles is launched from the twin tubes in a specific pattern at the designated target area creating a storm of death so dense that only heavily armoured foes can survive it.
When fired in this manner Death and Taxes counts as a single weapon.
Darion must roll to hit twice to use this attack. If neither attack hits then the shot is disregarded. If a single attack hits then resolve the attack as a barrage of two frag missiles on the target. The first missile in the barrage automatically hits the target, the second missile must scatter as normal for a barrage.
If both attacks hit, then place the large blast template over the target model. All models touched by the template take a S4, AP5 hit with no cover save allowed.
The twin missile system locks onto the target and delivers two super-krak missiles in a precisely timed sequence such that the first missile strikes the center of impact of the first missile half a second after the first detonates. As such the second missile strikes an already weakened area, wreaking greatly increased damage on even the most heavily armoured target.
When fired in this manner Death and Taxes counts as a single weapon.
Darion must roll to hit twice to use this attack. If neither attack hits then the shot is disregarded. If a single attack hits then resolve the attack as a single krak missile.
If both attacks hit, then the attack is resolved as a single S8 AP1 hit which rolls an additional d6 for armour penetration.
Colonel Commissar Winters by Sean Smith (aka TSINI)
One Company Command Squad in your army may replace its company commander with Colonel Commissar Winters for 120 points
Affiliation: Imperial Guard
Planet: Borlina – near the cadian gate
Born and raised on Raye, a commissariat training planet, young Commissar Winters was destined for great things. Upon hearing the distress signals from neighbouring Borlina's 88th PDF force, their planet virus bombed for corruption, Winters cut short his Training and took it upon himself to gather the remnants of the Borlina PDF and piece together a fighting force under the watchful eye of the commissariat. After a harsh campaign, the "Lucky 88th" was born; a rag-tag, war torn and broken army forced into military excellence by a harsh regime of summary executions by the commissars and a large conscription from neighbouring systems.


Leading with fear and inspiration, Winters commonly places himself at the head of any advancing force, his mastery of swordplay proving invaluable in the field of battle.
Unit Type:
Carapace Armour

Plasma Pistol

Ceremonial Power Sword

Frag Grenades

Refractor Field
Stubborn

Colonel Commissar: Winters Functions exactly the same was as a Regimental commander with 2 orders, and has the following special rules, as detailed in the Lord Commissar entry of Codex: Imperial Guard.

Summary Execution

Aura of discipline
Body Guard:
Winters Company Command Squad Must take the Carapace Option (already included in Winters' Points cost)
Ceremonial Power Sword:
Winters' WS is boosted to 5 on the first turn of combat, whether his squad initiated the assault or were assaulted themselves.
Gas Mask: Winters dons his gas mask in battle, instilling an anger into the men for the great injustice caused to them, every strike of their weapons in combat becomes revenge for a fallen comrade.

Any friendly unit (with the exception of conscripts) assaulting the same enemy unit as the colonel commissar gains thePreferred Enemy rule. (note this does not effect Winters himself, but does affect his command squad)
Zurgat the Possessed
- by Sputnik
Zurgat is a HQ Choice for a Chaos Space Marine army
Zurgat is a Captain of the Black Legion who has fought since the Horus Heresy. His Black Company has mastered the arts of Daemonic possession. Once battle is joined, the power of the Daemons within them is unleashed. Few can stand against such a foe.
Wargear:
Power Armour, Frag Grenades, Personal Icon, 2 Close Combat Weapons
Special Rules:

Fearless, Independent Character, 4+ Invulnerable save, Mutated Claws, Daemonic Mastery, Children of the Warp
Mutated Claws:
Zurgat's own body mutates into wicked claws capable of cutting through any material. Zurgat's close combat attacks ignore armour saves and roll an additional D6 for armour penetration.
Daemonic Mastery:
All units of Possessed in an army that includes Zurgat get to roll twice on the possessed abilities table, rerolling a dice if you get the same result until it is different. If Zurgat is accompaning a squad of Possessed they may choose their abilities. They also apply to Zurgat for the rest of the game (He gains no benefit from the Power Weapons ability).
Children of the Warp:
If your army includes Zurgat, Possessed are scoring units

.
Johann Volt, Commander of the Silent Sword Stormtrooper Regiment. - by Michael Addison
Johann Volt, and command squad 200pts
Storm Trooper Veteran Standard Bearer
The Silent Swords are among one of the Imperium's best kept secrets, they do not officaily exist. To those that do know of them, most regard them as traitors and heretics, others regard them as butchers and monsters. In reality they are the secret weapon of the highest levels of the Commissariat, deployed in clandestine operations in order to begin border wars, murder upstart officers, take care of troublesome Inquisitors and to otherwise keep the population fearful.The Silent Swords are recruited from the very best of the Schola Progonem, and are whisked away from the world in order to be even further indoctrinated. There is no act too brutal, no crime too heinous that the Silent Swords will not commit it, in order to keep the Imperium pure. Johann Volt has been the Commander of the Regiment for the last fifteen years (He was promoted after he killed his senior officer for refusing to attack a small, defenceless Imperial colony on Rekkial IV, the details are unimportant.), and under his command the Regiment has become nothing short of a nightmare. They attack without warning or pity, in an effort mimic the tactics of a tratior regiment. Johann himself often rushes to engage in single combat with the opposing commander, and he has earned himself a gruesome reputation for blood-lust amongst his men. All the better reason to obey his orders.
Johann Volt

3 Storm Trooper Veterans

1 Storm Trooper Veteran standard bearer
Carapace (all)

Pain and Panic (Johann Volt)

Hot shot lasgun (Storm Trooper Veteran)

Hot shot laspistol (Storm Trooper Veteran, standard bearer)

Power weapon (Storm Trooper Veteran, standard bearer)

Company Standard (Standard bearer)
Senior Officer (Johann Volt)

Stubborn

"We are the Emperor's Fury"

"No matter the odds..."

"No matter the cost..."

"We Shall Make this World Pure Again"
Johann Volt is a Senior Officer who has a command radius of 12" and can issue two orders a turn. He may issue the orders "Run, run, run", "Fire on my target" and "Bring it down".
Pain; A master crafted plasma pistol, when combined with Johann's occular enhancers, it allows the controling player to assign wounds from Johann's shooting attacks.
Panic; A master crafted power weapon that gives the wielder +1S and +d3 attacks on the charge, rather than the usual +1.
"
We are the Emperor's Fury...
"Any army that includes Johann Volt may choose stormtroopers as troop choices, additonally Hellhound Squadrons may be taken as Heavy Support choices. However, the army may not purchase Platoons, Leman russ tank Squadrons, Artillery Batteries (other than Griffon Mortars), Medusa Rocket Launchers or Deathstrike Missle launchers.
"
No Matter the odds..
."; All Stormtroopers in an army including Johann Volt gain the "Stubborn" special rule. Additionally all Stormtrooper and Veteran units in an army containing Johann Volt may purchase Commissar for +35pts, who may purchase upgrades exactly like those of a Commissar Lord (pg 92 of the Imperial Guard Codex).
"
No Matter the Cost...
"; All Stormtrooper units in an army containing Johann Volt may assualt out of a Chimera Transport as if it were open topped.
"
We Shall Make this Galaxy Pure Again
"; All units in an army contianing Johann Volt gain the prefered enemy special rule when fighting against the Imperial Guard. All Stormtrooper units in the army who have been purchased as Elites choices may choose a Valkyre as a dedicated transport, with access to all the upgrades usually allowed (see pg95 of the Imperial Guard Codex).
Captain Rull Mothantis
(HQ slot) - by Kevin (aka jabberjabber)
Rull is now one of Nurgle's finest Chaos Lord's and willingly serves both the Black Legion and Death Guard. Additionally, he has been sighted on the battlefield on numerous occasions with an ominous looking Great Unclean One. Scholars believe it is the self same daemon who had control of him all those decades earlier: but now they are strongly allied in different bodies.
Power Armour

Bolter

Bolt pistol

Power Fist

Frag grenades

Krak grenades

Blight grenades

Wings
Mark of Nurgle (included in profile / Toughness is 4 for instant death rules)

Feel no Pain

Fearless

Independent Character

6+ Invulnerable save
Special Condition
: Rull MUST attempt to use Nurgle's Rot every turn, even if there are no enemies in range.
Aegis, The Sentinel - by Travis Tippit
Born of Terra, Aegis, as he is now known, was thought to be just another recruit for the Imperial Fists. However, due to what many chaplains believe to be the work of the emperor, many of the growth implants malfunctioned, causing the new scout to dwarf most other brother marines in full armour. After a bloody and narrow victory at the battle of the Iron Eye, in which Aegis used nothing but a pair of storm shields to protect him and his brothers from a rain of bolter and plasma fire, he was given his title, Aegis, The Sentinel. His true name lost to imperial records, The sentinel is a towering behemoth in yellow armour, ready to protect his brothers, or die trying.
Unit Composition:
1 (unique)
Unit Type
: Infantry
Wargear:
Terminator Armour

The Standstill Shield

The Sunderer
Special Rules:
And They Shall Know No Fear, Combat Tactics, Independent Character, Eternal Warrior, Bolster Defenses, Guardian of the Throne.
The Standstill Shield:
This is a gigantic Storm Shield, capable of pushing back waves of attackers.
Any unit attacking Aegis, or the squad he is with may not gain their additional attack from charging. If the unit has furious charge, it may not gain its bonuses from Furious charge, but will gain its addition attack from charging as normal.
The

Sunderer:

Incapable of being wielded by any normal space marine and even most terminators, The Sunderer is a gigantic axe forged by a Tech-Marine Magos on Mars, specially for the Sentinel.
It is a Master Crafted Power weapon that adds +2 to Aegis's strength. In addition, any sucessful invulnerable saves made against wounds caused by The Sunderer must be re-rolled
Guardian of the Throne:
Any squad that Aegis, The Sentinel is attatched to recieves a 4+ invulnerable save.